Welcome to the website of Gregory Memorial Presbyterian Church (GMPC)! Here you will find information about… What we believe as Presbyterians… Opportunities for you to grow in God's Spirit… Ways to get involved in helping others… How to become part of a caring fellowship… But to really get to know us at Gregory Memorial you must get to know the men and women, boys and girls who comprise this vibrant congregation! And it is our hope that through getting to know us you may also come into relationship with the one who forms our center, our Lord and Savior, Jesus Christ! It is his love that shapes us and draws us together as a community of faith. We welcome your interest and invite you to join us in this great adventure of growing together in God.
JOIN US FOR…
Pastor Jason has posted sermon videos on youtube.com. Click here to view them.
~~~
We welcome Rev. Charles Summers to Gregory's pulpit February 18. Rev. Summers is a member of the Presbytery of the James. He retired last year as Pastor of the First Presbyterian Church in Richmond. He is married to Marsha, and he enjoys fishing, tennis, and playing with his grandchildren.
~~~
2018 Lenten Service & Lunch Schedule:
All are welcome! Prayer begins at 12 noon; a simple lunch follows at 12:30 p.m.
Feb. 22: Gary's United Methodist Church
Mar. 1: Sycamore United Methodist Church
Mar. 8: Gregory Memorial Presbyterian Church
March 15: Oakland Baptist Church
March 22: Bethlehem Congregational Church
~~~
The Facilities Committee has scheduled a Church Work Day on Saturday, March 10. The day will start at 8:00 a.m. with breakfast in the Fellowship Hall for the volunteers. (Rain date: Saturday, March 31)
~~~
Gregory Memorial Sign Campaign
We are so close! The new electronic sign in the front of our church will be ready soon and we are campaigning for the last of the dollars to fund this great project. The sign will allow us to share our fellowship hours and other great messages with the community of Prince George County. There are 33 letters in our letter campaign. How can you contribute to the fund? Pick a letter or 2 and make a contribution of $125 for each letter. Share a letter with a friend or a group! You can choose to donate anonymously or purchase a letter in honor of or memory of a loved one and be recognized in the Gregory Newsletter. You can place your donation in the worship collection plate — be sure to designate it as a sign donation — or deliver it to the church office.
The 33 letters in our campaign are:
gregory
memorial
presbyterian
church
(Only 5 letters to go!)
For each donation of $125 received, we will add a sticker to a letter flag in the picture below. Please help us meet our goal! Thank you!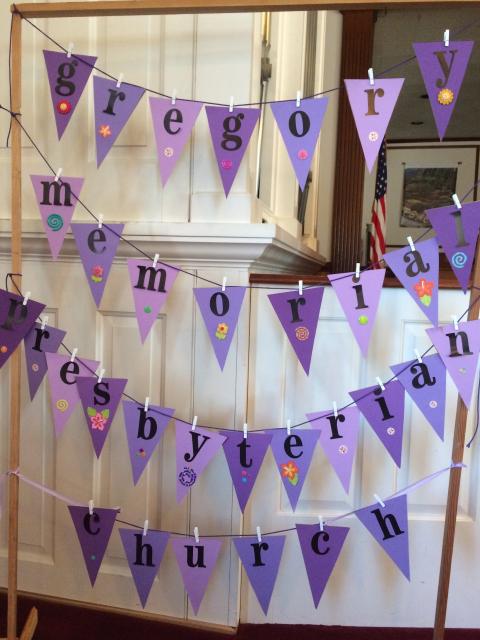 This is what the new church sign will look like: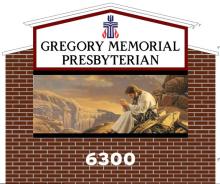 ~~~
The February 2018 Newsletter is available by clicking here.
~~~
Be sure to check the Calendar and the Newsletters for additional information.
Become a fan on Facebook.