Welcome to the website of Gregory Memorial Presbyterian Church (GMPC)! Here you will find information about… What we believe as Presbyterians… Opportunities for you to grow in God's Spirit… Ways to get involved in helping others… How to become part of a caring fellowship… But to really get to know us at Gregory Memorial you must get to know the men and women, boys and girls who comprise this vibrant congregation! And it is our hope that through getting to know us you may also come into relationship with the one who forms our center, our Lord and Savior, Jesus Christ! It is his love that shapes us and draws us together as a community of faith. We welcome your interest and invite you to join us in this great adventure of growing together in God.
JOIN US FOR…
Pastor Jason has posted sermon videos on youtube.com. Click here to view them.
~~~
Please click here for information about Project James House needs.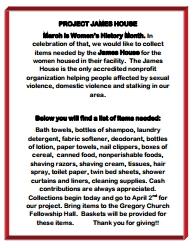 ~~~
2017 Lenten Service & Lunch Schedule:
(Prayer begins at 12 noon; a simple lunch follows at 12:30 p.m.)
March 9: Gregory Memorial Presbyterian Church – View Bulletin by clicking here.
March 16: Sycamore United Methodist Church
March 23: Trinity United Methodist Church
March 30: Gary's United Methodist Church
April 6: Bethlehem Congregational Church
~~~
Click the Community Events tab for information about a Boy Scouts' fundraiser.
~~~
The new "These Days" publication is available in the Narthex. Be sure to pick up a copy for inspirational reading!
~~~
The April 2017 Newsletter is available by clicking here.
~~~
Got junk? Live in Prince George County? You're in luck! See what all you can dispose of for free on April 15, 2017. Check out the Prince George Clean Community Day event by clicking here.
~~~
From the Homecoming Committee:
Birthday Box – We have reinstated the "Birthday Box" with
proceeds going toward our 2017 Homecoming. Suggested
donations per year of age are from $0.25 to $1.00.
Bookmarks For Sale! Marguerite is selling bookmarks that
she made. They are $3 each or 2 for $5. Proceeds go to the Homecoming Committee.
Homecoming Committee is collecting info to make sure all family and friends, present and past, are invited to our Homecoming celebration April 30, 2017, and to that end we would greatly appreciate your help! If you have current addresses for any previous church members not currently in our directory, please pass that info on to a member of the Homecoming Committee. Thank you!
~~~
Be sure to check the Calendar and the Newsletters for additional information.
Become a fan on Facebook.