Welcome to the website of Gregory Memorial Presbyterian Church (GMPC)! Here you will find information about… What we believe as Presbyterians… Opportunities for you to grow in God's Spirit… Ways to get involved in helping others… How to become part of a caring fellowship… But to really get to know us at Gregory Memorial you must get to know the men and women, boys and girls who comprise this vibrant congregation! And it is our hope that through getting to know us you may also come into relationship with the one who forms our center, our Lord and Savior, Jesus Christ! It is his love that shapes us and draws us together as a community of faith. We welcome your interest and invite you to join us in this great adventure of growing together in God.
JOIN US FOR…
Guest preacher, Rothea Kornelius, will return to the Gregory pulpit on
Sunday, Oct. 11 in the stead of Pastor Jason.
~~~
View several items of community interest on the Community Events tab.
~~~
Fall Work Day at Gregory on Saturday, Oct. 17 starts at 8:00 a.m.
with a hearty breakfast for workers in the Fellowship Hall. Join us!
~~~
GMPC's Fall Fest – Saturday, October 24th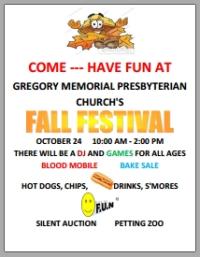 (Click thumbnail for full size flyer.)
The Homecoming Committee will hold a Bake Sale during the Oct. 24 Fall Fest.  If you wish to donate a baked item, please contact Evelyn Foster.
Blood Drive – Don't forget to be eating your Wheaties in advance of the Church's Blood Drive (Virginia Blood Services) on day of the Fall Fest, Saturday, Oct. 24!
~~~
Also from the Homecoming Committee:

A Brunswick Stew will be held by the Homecoming
Committee on Friday, Nov. 20. Many hands are needed!! We
are doing presale for $7/qt. for pick up on the 21st at 9:00 a.m.
Birthday Box – Today we reinstate the "Birthday Box" with
proceeds going toward our 2016 Homecoming. Suggested
donations per year of age are from $0.25 to $1.00.
Bookmarks For Sale! Marguerite is selling bookmarks that
she made. They are $3 each or 2 for $5.
~~~
DAYLIGHT SAVING TIME ENDS – Sunday, November 1 at 2:00 a.m.All clocks "fall back" one hour!
~~~
Nov. 3 Election Night Spaghetti Dinner at GMPC Fellowship Hall – This fund-raiser is sponsored by the Homecoming Committee and will offer a nice spaghetti dinner with salad, dessert and beverage at a modest cost of $7 per person. Time: 5:30 p.m. – 7:00 p.m.
~~~
Advent Retreat – Nov. 6-7: Camp Hanover is hosting "Keeping Advent
'Wholly', an advent retreat from 6:00 p.m. on Friday (Nov. 6) through
4:00 p.m. on Saturday (Nov. 7). Cost is $55/person including 3 meals,
lodging and all program materials.
Call 804.779.2811 or visit website at www.CampHanover.org/retreats
to register.
~~~
The October 2015 Newsletter is available by clicking here.
~~~
Be sure to check the Calendar and the Newsletters for additional information.
Become a fan on Facebook.