Welcome to the website of Gregory Memorial Presbyterian Church (GMPC)! Here you will find information about… What we believe as Presbyterians… Opportunities for you to grow in God's Spirit… Ways to get involved in helping others… How to become part of a caring fellowship… But to really get to know us at Gregory Memorial you must get to know the men and women, boys and girls who comprise this vibrant congregation! And it is our hope that through getting to know us you may also come into relationship with the one who forms our center, our Lord and Savior, Jesus Christ! It is his love that shapes us and draws us together as a community of faith. We welcome your interest and invite you to join us in this great adventure of growing together in God.
JOIN US FOR…
Pastor Jason has posted sermon videos on youtube.com. Click here to view them.
~~~
Summer Fun!!!
The Christian Education Committee has been hard at work planning some summer activities that will not only be fun for our congregation, but will also offer you the opportunity to invite families to join us in fellowship, thus ultimately leading them to join us for worship. Here is the schedule of events:
June 26— Christian Puppet Show followed by Ice Cream Sundaes!
A group from Suffolk will be coming to our church to present this show that will be geared to all ages. A good Christian message and tunes that lots of us will remember will be featured.
July 20—Entertainer Chris Campbell and a Cook-Out!!!
Chris is very active in his church in Glen Allen and is a performer that offers good family entertainment. He has written many children's songs and offers comedy and ventriloquism as part of his show. A cook-out dinner featuring hamburgers and hotdogs will precede Chris' show.
August 9—Faith Night at the Diamond!!
We have already reserved 20 field level seats at the Diamond for this special night. Christian music and testimonies by some of the Flying Squirrels' players will be featured. The night will be topped off with fireworks. We will sign-up for tickets for this event beginning in May. Also, if we have more than 20 people that would like to attend, the management has assured me that we can get more field level seats.
Plans for Back to Church Sunday are in the works but we are not ready to reveal our surprises yet. We will only say that we are trying to make this a very special occasion with some different types of activities.
Be sure to mark your calendars!!! You won't want to miss any of these activities and also be sure to bring some friends!!
~~~
The new sign has been installed!
Click here to see it in action.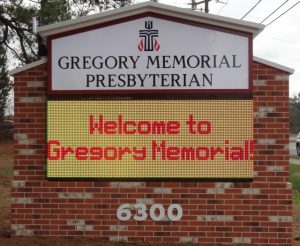 ~~~
The April 2018 Newsletter is available by clicking here.
~~~
Be sure to check the Calendar and the Newsletters for additional information.
Become a fan on Facebook.